Inter-State Health Care Agreements Set to Negate ObamaCare
Inter-State Health Care Agreements Set to Negate ObamaCare
New legislation would make Louisiana part of movement to shift constitutional balance stateward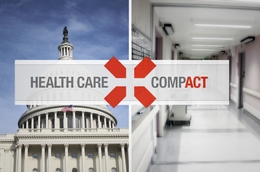 Louisiana may add momentum to a movement of state-level agreements aimed at canceling federal authority in health care policy. Senator Elbert Guillory (D-Opelousas) has introduced the Intergovern Relations Bill, SB 206, which would make it possible for Louisiana lawmakers to enter into Health Care Compacts (HCCs) with other states. The state legislature would still need to approve any inter-state agreements.
There is a historical precedent that supporters have cited for such agreements. While the U.S. Constitution requires congressional approval under Article One Section 10, states have entered into these agreements with federal consent.
Moreover, judges have broadly interpreted this provision to allow for any activity that does not infringe on the national government's authority. Over 200 compacts are now in force including one between the Port Authorities of New York and New Jersey and the Washington Metropolitan Area Transportation Authority.
HCC's would shift responsibility and authority for regulating health care away from the federal government back to state officials, according to the Health Care Compact Alliance (HCCA). The compacts would involve two or more states and must secure approval from the House and Senate.
The idea behind HCC is to allow for states to be laboratories and to serve as platforms for experimentation, Michael Barnhart, national coordinator for the Alliance, said.
"They are regulatory shields," he explained. "They answer the question of who decides health care – it's the individual citizen and the state governments, not Washington D.C. bureaucrats thousands of miles away. HCCs bring authority for health care policy closer to home and they will help to restore self-government."
There is some debate as to whether or not President Obama's signature is required for HCCs to gain final approval, Barnhart pointed out. The strategy now is to gain approval in 25 to 30 states, which can then built up a "critical mass" of support that will be difficult for the U.S. Congress and the president to dismiss, he said.
For his party, Sen. Guillory sees the HCC as a huge step forward in restoring state authority back to its proper station in the constitutional order.
"We live in the United States of America where freedom is precious," he said. "The federal government is attempting to control the delivery of health care and it is not doing an effective job."
So far,  supporters have successfully introduced HCCs in 13 states and one bill was signed into law in Georgia. Legislation has also passed the state House of Representatives in Montana, Missouri, Arizona  and Texas.  In addition, in more than 36 states, citizen groups and state legislators are actively considering legislation, according to the Alliance.
"There's a real hunger in the country right now to restore constitutional limits on federal power,"  Mario Loyola, director of  the Center for Tenth Amendment Studies at the Texas Public Policy Foundation (TPPF) said. "Interstate compacts have a lot of potential as a device to re-establish an effective boundary between federal  government and the states… I'm glad Louisiana is part of the effort. Louisiana's exploration  of the  interstate compact is a good sign that this sentiment is spreading across the country."
Not everyone operating at the state level is keen on the idea of HCC compacts. At a time when the Louisiana state legislature is just convening, lawmakers in other states have offered up some pointed criticisms. For example, Rep. Gary Odem, a Nashville, Tenn. Democrat, has argued that compacts could potentially inflate budget costs.
"Once word gets out that we are playing with legislation that can take benefits away from our citizens in the state of Tennessee and move them into something — we don't even know what it looks like – there's going to be an uproar," he has said.
Kevin Mooney is an investigative reporter with the Pelican Institute for Public Policy. He can be reached at kmooney@pelicanpolicy.org. Follow him on Twitter.
By sharing your phone number and/or email address, you consent to receive emails, calls, and texts from Pelican Action. You may opt-out at any time.