Tea Party Groups and Sen. Guillory Defer Health Care Compacts Until Next Session
Tea Party Groups and Sen. Guillory Defer Health Care Compacts Until Next Session
Supporters say Senate committee lacked firm understanding of proposal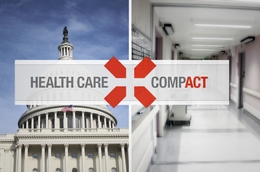 Right from the beginning, it was problematic to have the Senate Health and Welfare Committee oversee legislation that would allow Louisiana to join with others states in blocking ObamaCare, according to free market activists who have decided to defer the proposal.
They said committee members did not have a firm understanding of the Intergovern Relations Bill (SB206), which would enable Louisiana to set up with Health Care Compacts (HCCs) with other states.
"The bill is not dead, it will be back in the next legislative session," said Monica Scott, a coordinator with the Acadiana Patriots, a grassroots conservative group based in Lafayette.
"We decided it was better to… this voluntarily rather than have it killed in committee.
Although the U.S. Constitution requires approval in both houses of Congress for interstate compacts under Article One Section 10, they have been in effect in other policy areas. In fact, over 200 compacts are now in force, including one between the Port Authorities of New York and New Jersey and the Washington Metropolitan Area Transportation Authority.
HCC's would shift responsibility and authority for regulating health care away from the federal government back to state officials, according to the Health Care Compact Alliance (HCCA). The compacts would involve two or more states and must secure approval from the House and Senate.
"As it stands right now, we simply don't have the votes to get SB206, the Health Care Compact, out of Committee," said Sen. Elbert Guillory, the bill's sponsor.  "We have the votes to pass it through the full Senate and the House, but we can't yet get it out of the Health & Welfare Committee.  Rather than being handed an involuntary deferral, we opted to pull SB206 until we can successfully move this legislation out of committee.  We will continue to fight to bring common sense solutions to health care reform and keep Washington out of the affairs of Louisiana."
Robin Edwards, co-founder of the Louisiana Tea Party Federation, said HCCs would provide state officials with more decision-making authority over health care policy. But she acknowledged the timing may not be right for the current session.
"We need more education on the issue," she said. "I see it as a compelling option for our state, but there was not enough understanding for this on the [Senate Health Care] committee."
Kevin Mooney is an investigative reporter with the Pelican Institute for Public Policy. He can be reached at kmooney@pelicanpolicy.org. Follow him on Twitter.
By sharing your phone number and/or email address, you consent to receive emails, calls, and texts from Pelican Action. You may opt-out at any time.